A short documentary film
32 min, 2018
The film consists of five stories on destruction and preservation. The narration ranges from essay film to direct documentary, while the stories itself seem more or less hard to believe.
In the central story a guided tour takes place in the arctic Svalbard on a mild and rainy February day. The focus of the sightseeing changes to something not originally intended and becomes an introduction to the global warming.
The rest of the stories correspond and react to this setting in different ways. Stories include a discussion about saving the world, a famous Swedish eel who lived alone in a well over a century, a luggage lost in the ocean due to a container ship wreck and a sex scene of fungi creating new life in a deteriorating house.
"Blåfield presents us with metanarratives. Her films elicit the same kind of pleasure as the satisfaction of listening to storytelling. Her works are a modern-day sequel to the stories told around campfires before the birth of the written word. The viewer is cast in the role of the listener: we are transported to a borderland somewhere between document and fiction, and we alone are responsible for our interpretation."
— excerpt from Veikko Halmetoja's text.
The film is available at GuideDoc.
There are two versions of this work. The short documentary film version will premiere in Visions du Réel in April 2018. A separate exhibition projection version (2017) was on view in Ars Fennica exhibition in Kiasma Museum of Contemporary Art in Helsinki until February 18th in 2018.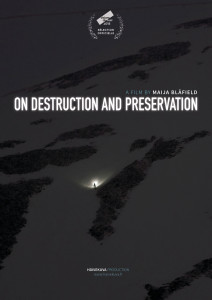 Director and Writer. . . . . . . .Maija Blåfield
Camera. . . . . . Päivi Kettunen, Maija Blåfield
Editing. . . . . . Maija Blåfield, Nina Forsman
Sound Design . . . . . . . .Olli Huhtanen
Set design (in the sex scene of fungi). . . . . .Anne Karttunen
Producers. . . . . . . .Maija Blåfield, Ilona Tolmunen
Produced by. . . . . . . .Häivekuva
---